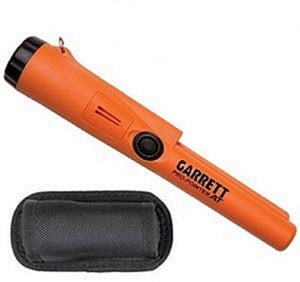 Garrett Pro-Pointer AT
* Fully waterproof to 20 feet
* Maximum sensitivity for improved detection of nuggets and other small targets. Choose from 3 sensitivity levels.
* Simple, single-button operation for power, retune, sensitivity adjustment, & silent mode (vibrate only)
* Fast Retune: quick button press instantly tunes out environment or narrows detection field for precise pinpointing of larger targets.
* Lost Pro-Pointer Alarm: after 5 minutes with no button presses, the pin-pointer emits periodic warning chirps.
* Automatic power off after one hour of warning chirps, saves batteries.
* Patented proportional audio/vibration
* Patented scraping blade for searching soil.
*Lanyard attachment loop allows Pro-Pointer AT to be attached to your belt, digging pouch, or metal detector
* Bright LED for low light searchers
*Woven belt holster, 9v battery included
* Ruler in inches and centimeters molded into side of pin pointer to judge target depth.