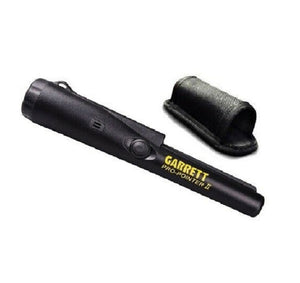 Garrett Pro-Pointer II
* Fast on/off cycles allows users to quickly tune out the detection of saltwater, wet sand, or highly mineralized ground.
* Increased durability and sensitivity (compared to original Garrett Pro Pointer)
* Lost Pro-Pointer Alarm: emits warning chirp for 60 minutes if left on more than 5 minutes without a button press.
* Auto-Off feature after one hour of warning chirps.
* LED light for low uses twice to 6x the battery life of other pin pointers with LED lights.
*Patented proportional audio/vibration increases as pin pointer approaches target.
* Pinpoint tip detection plus 360 degrees side scan detection.
* Lanyard attachment loop allows Pro-Pointer II to be attached to your belt, digging pouch, or metal detector.
* Belt holster & 9v battery included