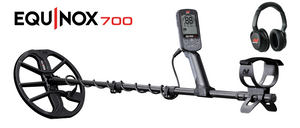 Minelab EQUINOX 700 Multi-IQ Metal Detector
SUPREME ALL-TERRAIN DETECTING
Whether you're swinging in the forest or snorkelling at the beach, EQUINOX 700® finds treasure that other detectors miss.

ADVANCED AUDIO CONTROL
With multiple tone audio options, the sound of treasure has never been clearer — EQUINOX's superior audio means you'll not only 'hear' if a target is trash or treasure but you'll also be able to gauge its size and depth simply by listening.

EXTREME PRECISION
The EQUINOX Multi-IQ engine delivers Stable IDs for even the deepest targets. Depend on solid, stable information to tell you whether to dig in or move on — when you've got a target, switch to Pinpoint Mode to zero-in further.

4 SINGLE FREQUENCY OPTIONS
For those with a specific goal in mind, EQUINOX® delivers total control and the power to choose from four single frequencies: 4/5/10/15 kHz.

LIGHTING AND VIBRATION
The daylight may have ended, but that doesn't mean your hunt has to — with Control Pod Flashlight, Red Backlight Display, Backlit Keypad, and Handgrip Vibration you can power on long after the sun has gone.

LOUD AND CLEAR AUDIO
Enjoy the crystal-clear audio with lightning-fast Low Latency Wireless Headphones and In-Built Speaker (Included), or Wired Headphones and Waterproof Headphones (Accessories).