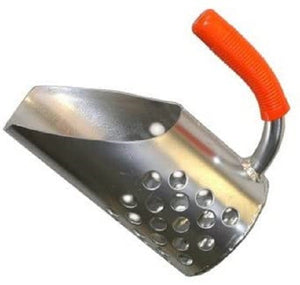 RTG Pro Metal Detector Aluminum Sand Scoop for Wet & Dry Metal Detecting 723
RTG Pro Aluminum Sand Scoop with Curved Rubber Hand Grip.
This ultra lightweight sand scoop is ideal for metal detecting on the beach, in wet or dry sand!
This new all aluminum sand scoop is ultra lightweight and very easy to use. The aluminum bucket has 5/8" diameter holes punched into the sides and the back of the scoop.
The bucket of the sand scoop is 5" in diameter by 9" long. The bucket is a little bit longer than the RTG Speedy Sand Scoop and will take a little bit more sand while scooping.
The anodized handle is welded to the top of the sand scoop. The handle has a curve in it for easy digging and has an orange rubber hand grip for comfort.
Ultra lightweight sand scoop weighs about a pound on a postal scale. Made in the U.S.A. This is a very durable sand scoop and is still very lightweight to carry around.